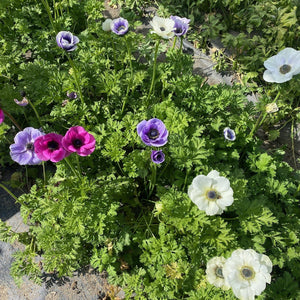 Galilee Blue Anemones: The rich, vibrant shade of Galilee Blue anemones is an unforgettable one! The deep lavender-blue hue that shifts to a lighter shade towards the petal tips will be a stunning addition to your Spring garden!
Growing Conditions: Galilee anemones grow well in full sun. Anemones are a Spring flower and they will do best in cool weather. Protect them from hard frost.
Perfect height for cut flower arrangements
Size 6+ corms
Quantity 10
Your items are set to be shipped during the first week of October. Alternatively, if you are located locally, you have the option to pick up your items at our farm located at 3101 Jackson Rd, Modesto, CA on September 30th between 2:00 PM and 4:00 PM or on October 14th between 2:00 PM and 4:00 PM. This provides you with flexibility in choosing either a shipping or local pickup option that suits your preference and schedule.